Book Club Visits
Readings/Presentations
School Visits
Workshops
Contact form submissions will be sent directly to the author. For tracking purposes only, The Friends will also receive a copy.
Nancy Atkinson is a science journalist and author with a passion for telling the stories of people involved in space exploration and astronomy. She writes for Universe Today and Ad Astra. Her latest book about the Apollo Program, Eight Years to the Moon: The History of the Apollo Missions, shares the untold stories of engineers and scientists who helped make the Apollo program so successful, despite the daunting odds against it. Her first book, Incredible Stories From Space: A Behind-the-Scenes Look at the Missions Changing Our View of the Cosmos, tells the stories of 37 scientists and engineers that work on several current NASA robotic missions to explore the solar system and beyond.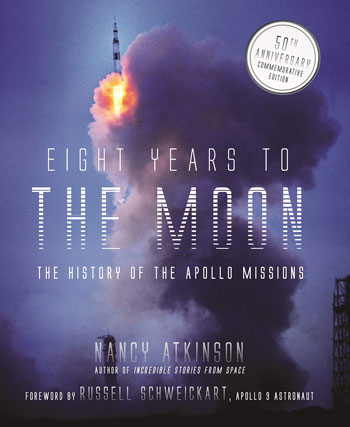 Eight Years to the Moon: The History of the Apollo Missions (Page Street Publishing Inc., 2019)
Incredible Stories From Space: A Behind-the-Scenes Look at the Missions Changing Our View of the Cosmos (Page Street Publishing Inc., 2016)