Book Clubs
Readings/Presentations
School Visits
Workshops
Contact form submissions will be sent directly to the author. For tracking purposes only, The Friends will also receive a copy.
Christine (Chris) Bauer's first book Those Three Words: A Birth Mother's Story of Choice, Chance, and Motherhood was published in 2018, after decades of work. Her book, which has been described as "heartwarming and heartbreaking," "beautiful and insightful," and "honest and raw," chronicles her journey of experiencing an unplanned pregnancy at age 18, the agonizing decision she needed to make, and its impact on her life.
Bauer has loved reading and writing for as long as she can remember. She grew up in Mitchell, South Dakota, and attended Mankato State University in Mankato, Minnesota, where she majored in Mass Communications and hoped to one day be part of a Woodward and Bernstein-type team who saved the world through ground-breaking journalism. Soul searching and need for employment led her to a gratifying career in corporate communications, public relations, and marketing.
Her greatest achievement and most profound joy are being the mother of three kind-hearted children and two beautiful grandchildren. In addition to being a mom and grandma of humans, Bauer is also the proud mom to one very spoiled dog and an equally spoiled granddog. She admits there were moments in the motherhood journey where she preferred the canines.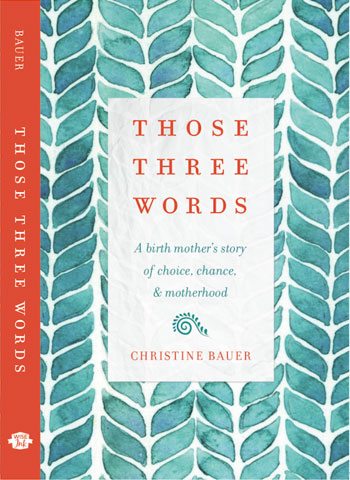 Those Three Words: A Birth Mother's Story of Choice, Chance, and Motherhood (Wise Ink Creative Publishing, 2018)